Learning to code is quickly becoming an essential skill whatever your chosen vocation.
A lucrative career path on its own, the ability to make computers sing and dance in new ways can offer a deeper look at how things work under-the-hood in the digital world and can be a great bonus on any CV.
Whether you're just starting out or are an industry veteran looking to add new skills, coding schools and bootcamps can be a great way to give you the start you need.
Google Digital Skills Academy

Launched in 2017, Google's Digital Skills Academy is aimed at teaching programming and other related skills in short, intensive courses at their new London HQ.
Recently they have also expanded their offerings to other locations in Europe.
Pricing: Varies, available upon request
Location: London and Europe
Lambda School

An online school with a focus on web technologies (Ruby-on-Rails, Javascript, CSS), Lambda School offers 6 - 12 month courses provided by instructors from some of the best tech companies and organisations around––NASA, Apple, Google, Blizzard, it's an impressive list.
Tuition can be paid in full or paid after getting a job as part of a salary sharing scheme.
Pricing: $0 - $20,000
Location: Online with local meet-ups
App Academy

App Academy offers full-time courses teaching web application development with Ruby-on-Rails, Javascript, Redux, and SQL. All courses are taught from their campuses in San Fransisco and New York, and they will help you find a job through their extensive alumni network after completion.
Pricing: $17,000 - $28,000
Location: San Fransisco and New York
The Odin Project

Founded in 2013 The Odin Project is an online school for web development skills.
They have a focus on open-source and believe education should be free and open to all.
While they don't offer any certificates for completion, working through their course will build a good portfolio of work to show potential employers.
Pricing: Free
Location: Online
edX
Backed by some of the leading Universities in the United States, the courses available from edX offer a wide variety of skills.
They have an extensive collection of computing and programming related courses, but also offer courses on almost any topic you can think of.
All their courses are free to study with the option to purchase completion certificates for $49.
Pricing: Free ($49 for certificate)
Location: Online
Le Wagon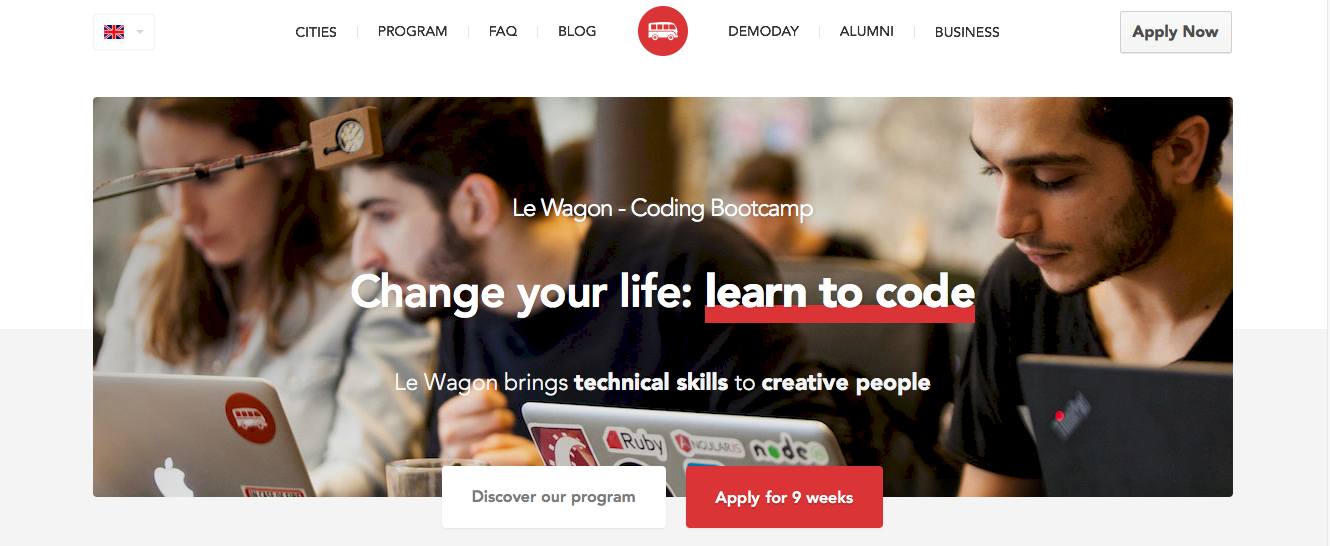 Le Wagon offers 9-week courses at their locations all across the world.
Each courses leaves students with a grounding in Ruby-on-Rails, CSS, and SQL––essential skills to become a web developer.
Pricing: approx. $8,200
Location: Europe, Asia, South America, Mexico, and the Middle East
Makers Academy

Makers Academy is an exclusive web development bootcamp based in London.
Their courses last around 3 months and they offer extensive help in finding a job at a variety of top companies after completion, however they only accept a handful of applicants in each intake.
Pricing: approx. $11,700
Location: London
freeCodeCamp

freeCodeCamp offers a series of project based courses in programming and computer skills.
Each section has you created a project with a clear objective and series of criteria to measure success.
You can earn certificates to show completion of their more advanced sections, which will be sure to impress any potential employers.
Pricing: Free
Location: Online
General Assembly

General Assembly offer a variety of courses in front-end and backend web-development, app development, and data science.
Courses can be undertaken at their campuses in London and across the United States.
They also offer online options.
Pricing: $8,000 - $10,000
Location: London, United States, Online
CodeAcademy

Targeted at complete beginners, Code Academy offers online interactive courses to get you started on your journey into the world of programming.
They cover a wide array of languages and recently began offering premium options with more intensive and focused topics.
Pricing: Free - $199
Location: Online