In this lesson, we are learning how we can write JavaScript in a separate file that we can then include in HTML and run in the browser.
To do this, we need to have HTML file.
I am using the sublime editor here to write HTML code.
You can easily add basic HTML structure code if you are using sublime editor, so simply write HTML and press enter to get basic HTML structure, now save that file into your computer.


Now I am going to go ahead and open up this HTML file in my browser:

Now we need to make a separate file for JavaScript in the editor with the name Javascript.js and save it in the same directory.
The important part is 'JS' in the end, it is because.
JS represent JavaScript and tells the browser that it is JavaScript file.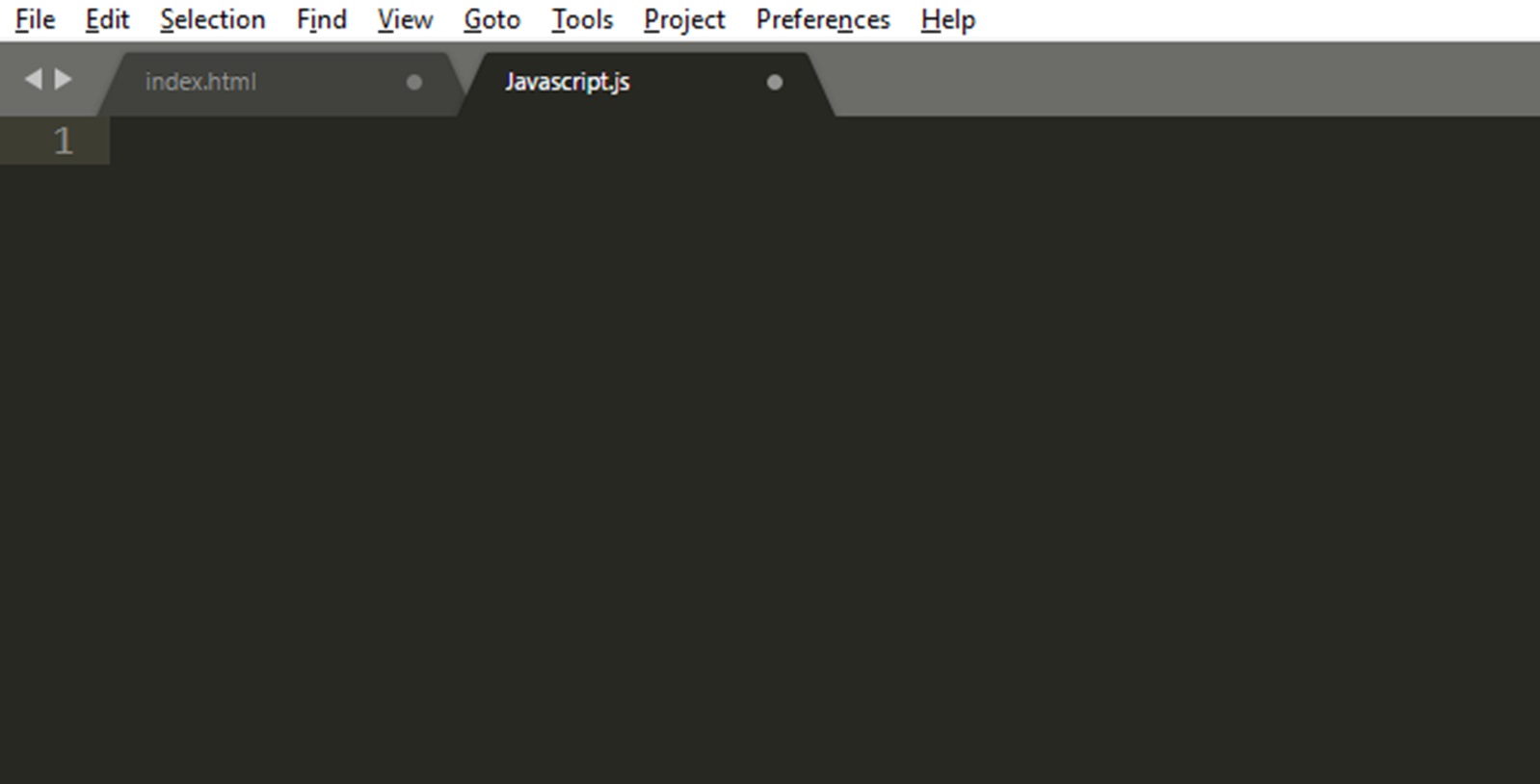 Now just to check if it is working or not, let's write some simple code here:
JavaScript Code
Write simple JavaScript code into JavaScript file, here is a simple JavaScript code below.
alert("writing in separate JavaScript file");

Now if we check in the browser and refresh the page.
We will not find anything or any changes there because this file is not connected with the HTML file.
So to connect it with HTML file write below code within your tag into your HTML file like below
HTML CODE
<!DOCTYPE html>
<html>
<head>
    <title>JavaScript Demo</title>
    <script type="text/javascript" src="Javascript.js"></script>
</head>
<body>
    <h1>JavaScript File demo</h1>
</body>
</html>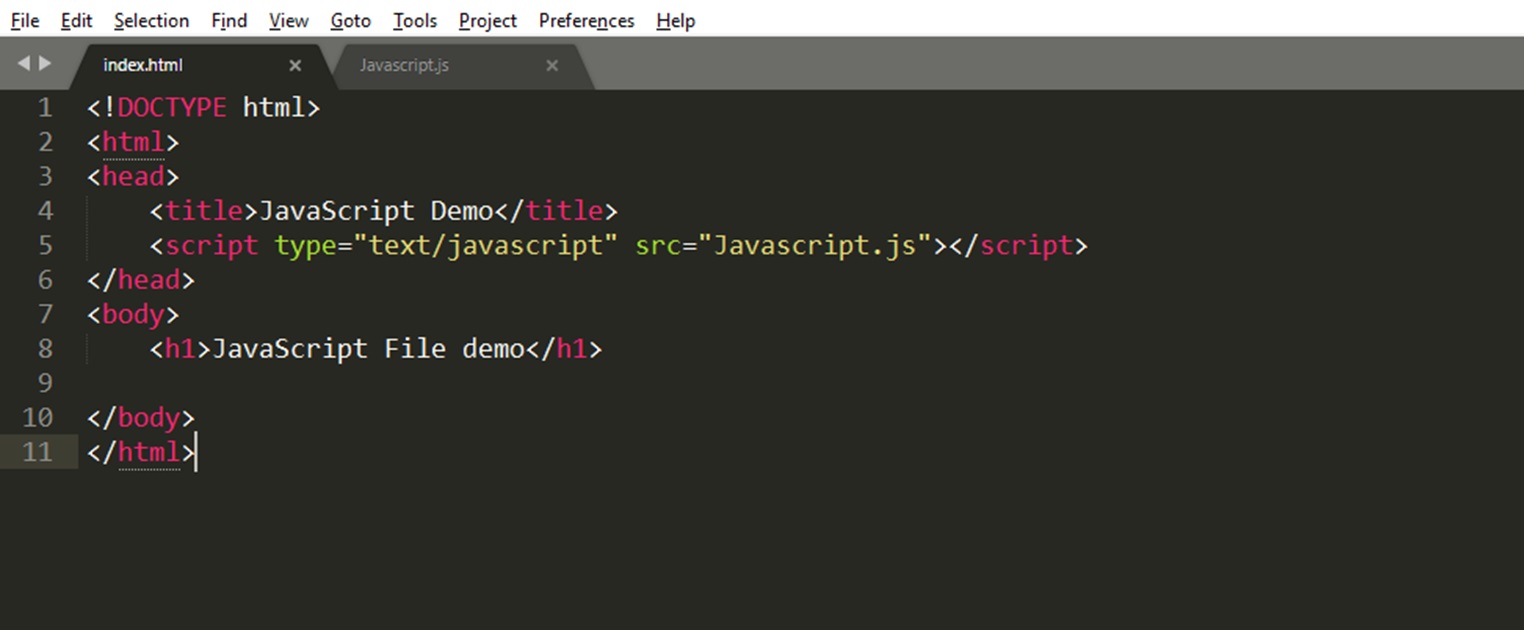 Now refresh a browser page and you will get an alert message:


So every time this page gets load, it will show a pop up dialog box with the alert message.
Let's take another example here we are writing few lines of JavaScript code that asks the user for his or her name and then it just prints out a message.
JavaScript Code
var userName = prompt("Hey Who is there?");
alert("nice to see you "+userName);
console.log("nice to see you as well "+userName);

Here is the screenshot of the JavaScript code: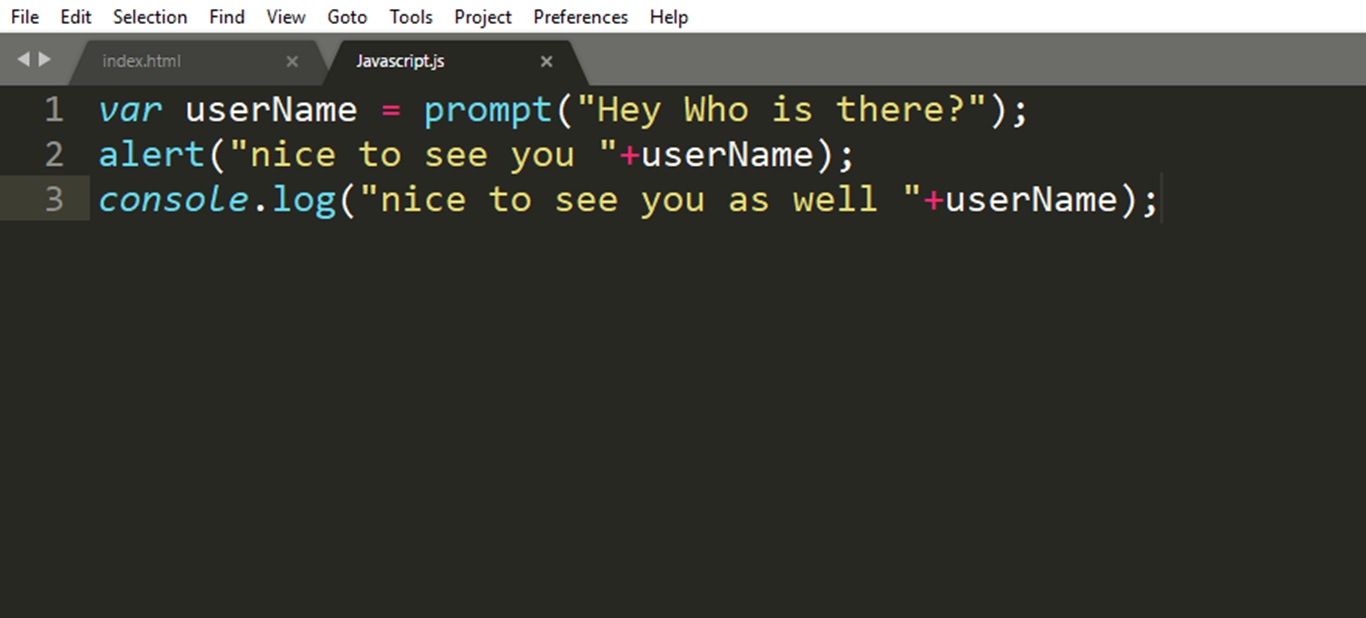 If we need information from the users and save the value which user would give to us every time they load the page and then we are using alert to respond the user, here we are using 'alert()' method with the message 'nice to see you' and concatenating it with '+userName' to respond the user.
Plus we are using console.log to concatenating the strings together with two different times, One to alert them and one to cancel the log.
Now refresh the browser and first thing that happens there, it asks us for a name.


So we are going to put a name 'Thor' and hit OK: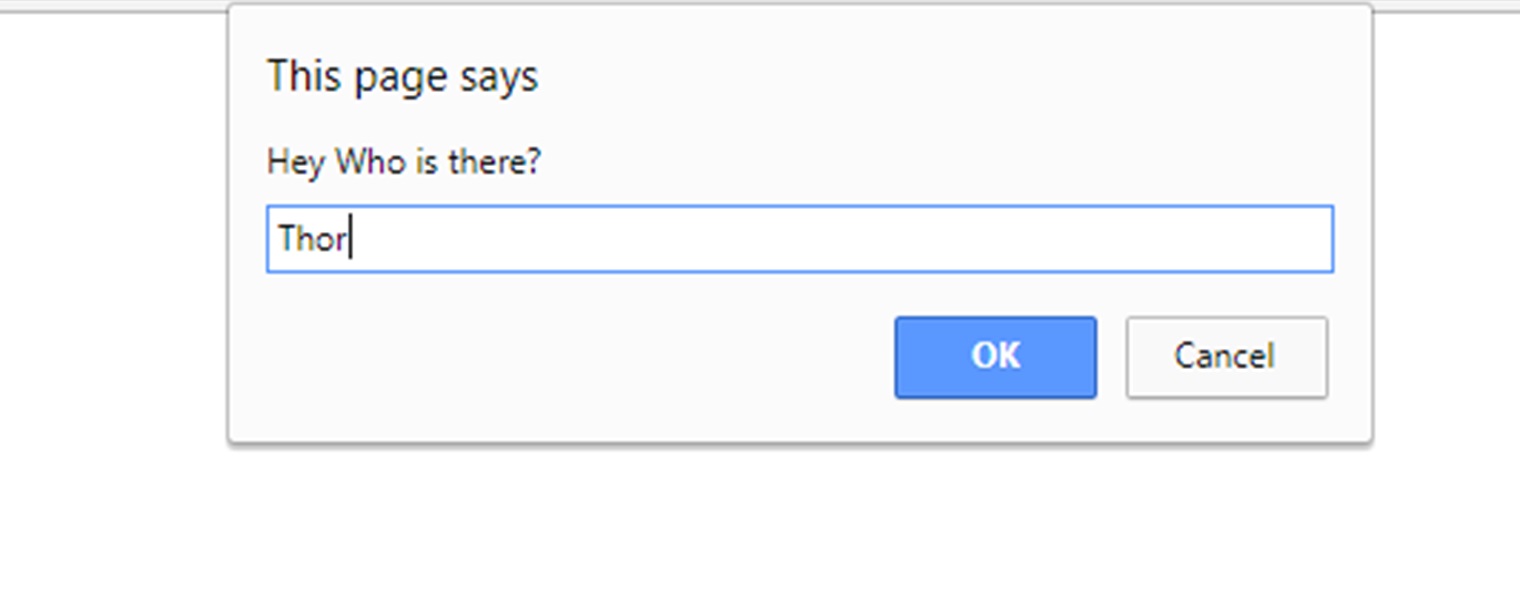 Now it tells me 'nice to see you Thor', you can see in below screenshot.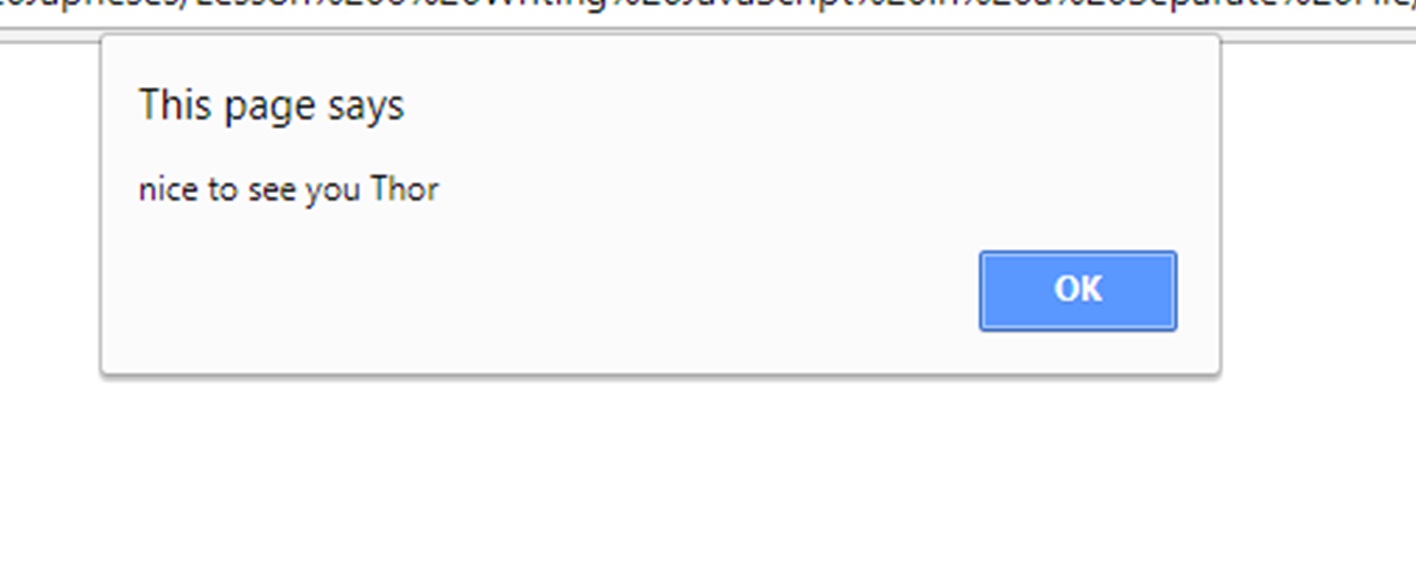 If I open up the console, you will see that console.log message "nice to see you as well" and also you can see it tells me JavaScript.js line 3, this description help us latter when we have long complicated files and when we get some kind of error, so this description help us to see where exactly the problem is and what line number in our file.


Console.log just printed the same value which had been given by the user but only in console.
In this lesson we have learned how we can write JavaScript in different file and we have given a review of those three methods that we have used in previous lesson prompt to ask the user for some input, alert and console.log
SourceCode
imdex.html
<!DOCTYPE html>
<html>
<head>
    <title>JavaScript Demo</title>
    <script type="text/javascript" src="Javascript.js"></script>
</head>
<body>
    <h1>JavaScript File demo</h1>

</body>
</html>

javascript.js
var userName = prompt("Hey Who is there?");
alert("nice to see you "+userName);
console.log("nice to see you as well "+userName);